US military says Martin Luther King would be proud of its weapons
A repellent piece of propaganda appropriates the words and images of this nonviolence advocate to glorify US militarism

"The Department of Defense is a leader in equal opportunity for all patriots seeking to serve this great nation. . . The vigilant warriors in AFGSC understand they are all equal and unified in purpose to provide a safe, secure and effective deterrent force for the United States. . . .

"Dr. King would be proud to see our Global Strike team - comprised of Airmen, civilians and contractors from every race, creed, background and religion - standing side-by-side ensuring the most powerful weapons in the US arsenal remain the credible bedrock of our national defense. . . Our team must overlook our differences to ensure perfection as we maintain and operate our weapon systems. . . Maintaining our commitment to our Global Strike team, our families and our nation is a fitting tribute to Dr. King as we celebrate his legacy."
"Dirty Wars"
UPDATE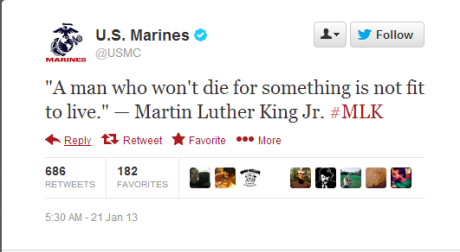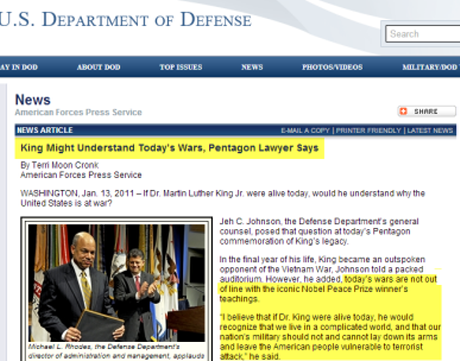 This isn't a grotesque one-time aberration but rather a grotesque, institution-wide propaganda theme: to hold up Martin Luther King, of all people, as the justifying symbol of US aggression. That is just unspeakably foul.