November 16-17, 2015 -- Soros operatives hide terrorist links of Syrian migrants by Wayne Madsen

Groups like Human Rights Watch, the International Rescue Committee, the International Organization of Migrants, and other non-governmental organizations are spewing forth enormous amounts of disinformation to convince Europe and the rest of the world that there are no Islamic State terrorists among the sea of refugees from Syria, Iraq, and other countries who swamped Europe in recent months.
The NGOs have suggested that those who claim that there are terrorists among the migrants already in Europe are xenophobes and racists ignore the fact that the Islamic State of Iraq and the Levant (ISIL) recently claimed that 4000 of its members had been embedded among the refugees who are already in Europe. ISIL said, before the Friday the 13th ISIL massacre in Paris, that its refugee sleeper agents were under orders to carry out terrorist attacks in retaliation for French military attacks on ISIL positions inside Syria.
George Soros-funded network of non-governmental organizations are advancing the meme that none of the terrorists who went on the killing spree through Paris entered Europe with the masses of refugees. The Soros-owned and -operated Human Rights Watch has suggested that the Syrian passport found next to one of the dead terrorists in Paris was a fake.
Even after French authorities determined that one of the dead terrorists in Paris was, in fact, Ahmad Almohammad, a Syrian refugee from Idlib who entered Europe from Turkey on October 3 through the Greek isle of Leros with a Syrian passport, Soros's operatives cried foul and suggested the Syrian passport was a fake. The Soros gang demanded that the refugee flow from the Middle East, Asia, and North Africa continue unabated despite the bloodshed in Paris, the discovery of an ISIL support cell in the Brussels suburb of Molenbeek, and the arrest in Germany of a Montenegrin man who was driving to Paris with a small arsenal of weapons in his car. Montenegro, like other Balkans countries, have been used as "soft" entry points for Muslim migrants entering Europe from refugee centers in Turkey, Lebanon, and Jordan.

In fact, Almohammad transited from Greece to Macedonia, Serbia, Croatia, Hungary, Austria, and then into Germany and, ultimately, to France. One such call to maintain the current migratory status quo came from the Emergencies Director of Human Rights Watch, Peter Bouckaert. The current European "welcome mat" has enabled terrorists like Almohammed and others to carry out their deadly tasks.

It should be noted that in 2010 Soros "leased" Human Rights Watch for $100 million over a ten-year period. Since that time, the NGO has served Soros's sordid global interests, including undermining the government of Syrian president Bashar al-Assad and concocting phony news reports about "barrel bombs" and chemical weapons attacks by Syria's army. Bouckaert claimed the Syrian passport found on the dead terrorist migrant was fake. Bouckaert had no evidence to back up his statement and his claim turned out to be false.
Because of pressure from groups like Human Rights Watch, Amnesty International, International Organization of Migration, and other Soros-financed geopolitical tools, as well as ISIL propagandist media operations like Al Jazeera, the Syrian government relaxed its stringent passport renewal policies after it was criticized for doing nothing to help Syrians who had fled the civil war ravaging the country. In April 2015, Syrians abroad, even those who left the country illegally, members of exiled opposition groups, and Syrians who dodged the military draft, were permitted to renew their Syrian passports at Syrian consulates in Turkey, Greece, Lebanon, and the United Arab Emirates. This was a direct concession by Assad to the Syrian opposition before peace talks were due to commence in Geneva.

The Syrian opposition claimed that Assad's government was somehow responsible to provide the refugees with passports because they fled their homes so fast, they had no time to collect identity papers, birth records, and other documents, including passports. Syrian government consulates and embassies were extremely liberal in providing anyone claiming to be a Syrian refugee with passports and other documents, including "family booklets" that record all the names of a Syrian citizen's family members.
It was in Greece where Almohammad was issued his emergency Syrian passport, which Human Rights Watch misrepresented as counterfeit. Is Human Rights Watch perhaps trying to divert attention away from the fact that terrorists are obtaining valid passports to enter Europe?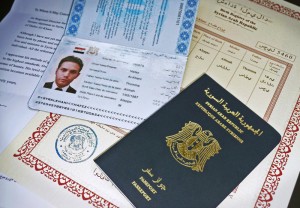 Soros-financed NGOs pressured Syria to grant emergency passports and other documents to Syrian refugees, thus enabling ISIL terrorists to enter mainland Europe and carry out terrorist attacks like the Friday 13th massacre in Paris.
HRW and other Soros-influenced NGOs also forced suspension of the Dublin II rules. The rules require the forcible return by European Union member states of a refugee to the country where he or she first entered European Union territory. Germany suspended the rules and claimed responsibility for any refugee, including those who first entered European Union space through Greece. Almohammad is a prime example of Germany providing cover for an ISIL terrorist. Almohammad was in Germany before he traveled to France.
George Soros certainly shares in the civil liability for the ISIL terrorists arriving in France amid the throngs of refugees from the Middle East. Soros's current real-time net worth is $24.5 billion. That is more than enough to pay compensation to the families of the Friday the 13th massacre victims and other victims from past and future terrorist attacks carried out by ISIL "refugees" who entered Europe courtesy of Soros's various migrant assistance programs.