Clinton email included classified NSA information; FBI investigation looking at links to Colombian drug cartels By Wayne Madsen Report

The steady drip of "Emailgate" continues to badger the Hillary Clinton campaign. Contained in the partially-released FBI report, dated July 2016, on the bureau's findings concerning Hillary Clinton's private email servers and the classified information contained on them is a reference to the presence of National Security Agency (NSA) classified information. The FBI report states that of 81 classified email chains discovered on Mrs. Clinton's server, 36 were deemed to be Not Releasable to Foreign Governments (NOFORN) and 2 were releasable to five Allied partners (FVEY). The caveat FVEY (Five Eyes) is classified information derived from communications intelligence systems operated by NSA and its four partner agencies in the United Kingdom, Canada, New Zealand, and Australia. Many of the documents revealed by NSA whistleblower Edward Snowden were marked as FVEY.
Here is what Mrs. Clinton said about Snowden in September: "[Snowden] stole very important information that has unfortunately fallen into a lot of the wrong hands .
. . So, I don't think he should be brought home without facing the music."

One could also ask whether Mrs. Clinton's cavalier handling of information at the same classification level of that released by Snowden should also warrant criminal prosecution. It is now being reported that the FBI field office in Miami is investigating the operations of the Clinton Foundation, along with other FBI offices in New York, Washington, Los Angeles, and Little Rock.

The FBI investigation in New York is principally focusing on the links between the Clinton Foundation and Teneo Capital, a private equity and intelligence firm co-founded by Bill Clinton's former chief assistant at the Clinton Foundation, Doug Band. While collecting a government paycheck from Mrs. Clinton as her chief assistant at the State Department, Huma Abedin, now under FBI scrutiny as a result of the discovery of 650,000 of her emails on the laptop computer of her estranged and disgraced husband, former U.S. Representative Anthony Weiner, was also being paid by Teneo as an employee.


One of Teneo Intelligence's many global offices is located in Bogota, Colombia. A secretive Colombian private equity fund,
Fondo Acceso
, founded in 2010 and which, ironically means "Access Fund," was financed by Mexican mega-billionaire Carlos Slim Helu and Canadian mining magnate Frank Giustra, is run out of the Clinton Foundation's Bogota office. Not much is known about the fund other than that it claims to invest "education entities and agricultural and fishing products commercialization."
Fondo Acceso and the Clinton Foundation are co-located at Calle 93A #14-17, Suite 707, Bogota. The fund benefited financially from the U.S.-Colombia Trade Promotion Agreement, for which Mrs. Clinton strongly lobbied as Secretary of State. And, lo and behold -- Teneo Intelligence shares the same office building in Bogota, the Chico Business Park, with Fondo Acceso and the Clinton Foundation!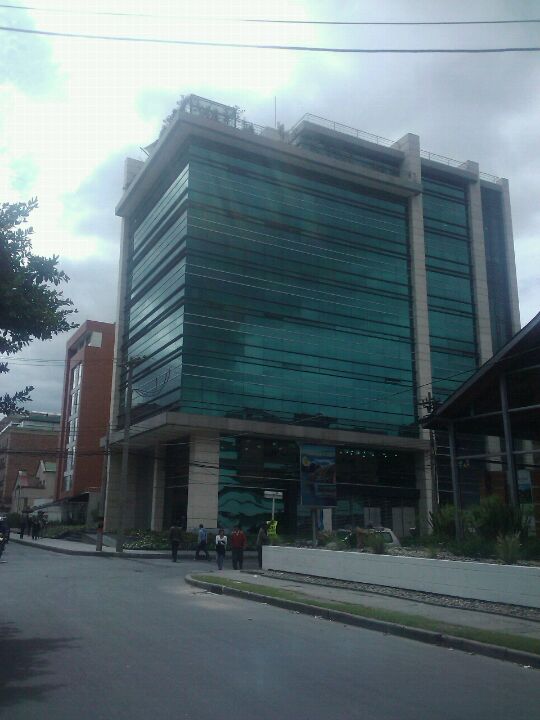 One big happy family at the Chico Business Park in Bogota: Clinton Foundation, Fondo Acceso, and Teneo Intelligence. The FBI field office in Miami is likely taking a very close look at this operation.
Tracking the money being fed into the Clinton Foundation may include proceeds from the illegal narcotics traffic in Colombia and other nearby countries. Therefore, the involvement of the Miami office in investigating Clinton Foundation funding, including the major donations from Slim and Giustra, makes a world of sense. There is also various reports that the Clinton Foundation diverted millions of dollars in aid money destined for earthquake- and hurricane-ravaged Haiti. The FBI field office would be the natural focal point for a multi-pronged investigation of the Clinton Foundation since it would have to coordinate its activities with FBI Legal Attachés at U.S. embassies in Bogota, Mexico City (as the investigation pertains to Slim), and Port-au-Prince, Haiti.
According to Mexican press reports, Slim, the top shareholder in
The New York Times
, has been linked to narcotics smuggling. "Acceso Fondo" claims it finances fruit tree farms in Colombia. Perhaps it funds other "agricultural" products, as well. The fund's investments in fishing boats is also of particular interest. The one man who knows about Slim and his drug cartel connections, Joaquin "El Chapo" Guzman, is in solitary confinement in a Mexican prison awaiting extradition to the United States. El Chapo is a prime candidate to be offered a special plea deal in return for his knowledge about the Clinton, Slim, and Giustra narcotics smuggling operations in Colombia. However, as seen with the politicization of the U.S. Justice Department by Attorney General Loretta Lynch, that is not about to happen.
The NSA maintains an active counter-narcotics intelligence operation at NSA Texas in San Antonio. The fact that Mrs. Clinton's email chains contained NSA FVEY information should have the NSA and FBI scurrying to find out if America's counter-drug cartel operations were compromised by the Clinton team.