SPECIAL REPORT. Scalia's hunting ranch was meeting place for secret society

The story of the late Supreme Court Associate Justice Antonin Scalia's last hours spent at the exclusive Cibolo Creek Ranch nestled in the Chinati Mountains, near Marfa, Texas, is as strange as the peculiar treatment his body received after his sudden death during his first night at the 30,000 acre compound. WMR's editor first speculated that there was more going on at ranch with Scalia and 35 other men during the Valentine's Day/President's Day weekend. First, it was a male-only "hunting" Valentine's Day weekend event for some influential married and family-oriented figures, including Scalia. Scalia's "friend" from Washington, who accompanied him from Washington to Houston where they boarded a private jet the Cibolo Creek Ranch airport, was also kept secret.
That was until the most unlikeliest of all sources, the "connected"
Washington Post,
revealed on February 24 that the hunting event attended by Scalia included a number of officials of the over three-century old International Order of St. Hubertus, founded in 1695 by Count Franz Anton von Sporck of the Kingdom of Bohemia, a vassal state of the Habsburg Empire. Today, the order is presided over by its "Grand Master His Imperial and Royal Highness Istvan von Habsburg Lothringen, Archduke of Austria, Prince of Hungary." The secretive hunting order, which upholds the Latin motto, "Deum Diligite Animalia Diligentes" or "Honoring God by Honoring His Creatures," claims royal protection under "His Majesty Juan Carlos of Spain, the Grand Master Emeritus His Imperial and Royal Highness Archduke Andreas Salvator of Austria," as well as Istvan von Habsburg Lothringen.
As far as its motto of "honoring God's creatures," King Juan Carlos of Spain ultimately fell from power after hunting scandals. In 2012, the king was photographed in front of an elephant in Botswana, which was shot to death by hunters. In 2006, the king rejected as false a rumor that he shot a bear in Russia that was plied with vodka. As a teenager, Juan Carlos shot and killed his brother Alfonso in an accident in Portugal. The pistol was allegedly given to Alfonso as a gift from General Franco, Spain's dictator. Spanish priest Josémaria Escriva founded the far-right wing Catholic Opus Dei sect, of which Scalia was a member, in 1928, under the patronage of Franco.
The circumstances surrounding Alfonso's death in 1956 remain clouded in mystery. Juan Carlos, a member of the royal House of Bourbon, abdicated the Spanish throne in 2014.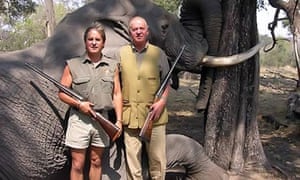 Juan Carlos's reign began to unravel after he was pictured with an elephant, shot to death by hunters in Botswana.
Ranch owner, Houston billionaire businessman John B. Poindexter, has been reticent about revealing the identities of the other 35 guests who stayed at the ranch with Scalia. Nor has Poindexter provided the names of other special guests who have participated in similar gratis functions held about three times a year. Poindexter did reveal that when he discovered Scalia's lifeless body, a pillow was partially covering his face.
It is now known, thanks to the
Post
article, which normally would be derided by the corporate media as "conspiracy theory" speculation had it appeared in any web-based publication, that Scalia's friend from Washington is C. Allen Foster, a prominent Republican trial lawyer who has argued cases before the Supreme Court. Foster ran as the Republican candidate for Attorney General of North Carolina in 1984.
Scalia attorney friend C. Allen Foster who left the U.S. for a trip to Argentina after Scalia's funeral in DC. Argentina's new right-wing president, Mauricio Macri, is affiliated with the right-wing Catholic sect Opus Dei. Foster is with the law firm of Whiteford Taylor Preston at 1800 M Street, NW Washington. The International Order of St. Hubertus, American chapter uses a UPS rental mailbox, or "suite," at 2100 M Street.
Last year, Poindexter's firm had an age discrimination case before the Supreme Court, which it, Scalia included, decided not to hear, providing a victory for Poindexter, the defendant. Foster could not be reached by the
Post
because his office said he was traveling in Argentina.
The 2013 investiture in Madrid of the International Order of St. Hubertus. Cibolo Creek Ranch owner John B. Poindexter is in front row. Poindexter is also the leader of the green-caped order's Southwest Priory, consisting of Texas, Louisiana, New Mexico, and Arkansas. The order's Maltese Cross symbol suggests a tie-in with the Catholic Knights of Malta.

St. Hubertus's American chapter began in 1966 under the auspices of San Francisco's elite Bohemian Club, which sponsors an annual Bohemian Grove encampment in a dense forest north of San Francisco. The event has drawn the world's movers and shakers, including David Rockefeller and Henry Kissinger, and was once condemned by President Richard Nixon on White House tapes as "the most faggy Goddamn thing you could ever imagine." The event features male-only nudism as part of male bonding pagan ceremonies.
Poindexter and Foster are prominent members of the St. Hubertus Order as are two other guests from the hunting outing at Cibolo Creek at which Scalia died. The Post identified two private jets that arrived at Cibolo Creek airport from San Antonio just after that carrying Scalia and Foster arrived at noon from Houston. The two other jets, which departed Sunday, February 14, are owned by Wallace "Happy" Rogers III and A.J. Lewis III, both of San Antonio. Both are Republicans, in the restaurant business, and officers of the male-only Order of St. Hubertus.
So far, the description of Scalia's last outing sounds as if it is torn from the pages of a Dan Brown novel. But it gets better. WMR caught site of a number of Mexican "diablo" artifacts at the Cibolo Creek Ranch, which is odd for a Roman Catholic order like St. Hubertus.

Amid the Satanic artifacts, a baby's crib [left]. The ranch only has single beds, including made up beds found in the outside passageways [center], except for the king size bed found in Scalia's suite [right], remade after Scalia's death with door locked. Photos: WMR.

Outside of Scalia's room, the "El Presidente" suite, is a wood-burning pit. There was evidence that on the evening that Scalia died, there was a party outside his suite. There was ash still in the pit, some broken glass, and cigar ashes in the ashtray. Scalia was an avid cigar aficionado. Also found was a box of self-striking matches next to the ashtray, which was alleviated by the WMR editor as a "souvenir." Inside the corridor leading to Scalia's room was a statuette that can only be described as satanic in nature. Scalia's dinner, his last meal, was served under a phalanx of devil masks hanging from the ranch's dining room. A painting reproduction outside the dining room evoked memories of the pre-St. Valentine's Day Roman pagan holiday of Lupercalia, celebrated around February 14th and known for drinking and orgies.
Fire pit outside of Scalia's suite showed signs of a recent party: broken glass, cigar ashes, cigarette butts, and ash residue in the pit [left]. A box of strike-anywhere matches [right] was found next to the ashtray. Photos: WMR.



Paintings at ranch highly suggestive of Roman pagan Lupercalia festival in mid-February, a pre-Valentine's Day celebration of sex and orgies. Photo: WMR.



Statuette found in passageway not too far from Scalia's room. Photo: WMR
The strict Catholic Scalia had these devil masks staring down at him during his last meal in the ranch's dining room. Photos: WMR.