Was Trump's father a Nazi spy during World War II?
by the WAYNE MADSEN REPORT
Most of what the world knows about Fred Trump, the ethnic German father of President Donald Trump, falls between 1927, when he was arrested at a Ku Klux Klan riot in Queens, in the pre-war 1930s when he built and managed several rental homes around Queens on behalf of his E. Trump & Son real estate development company, and the post-war years, when his Trump Management Company operated several apartment buildings and housing developments. Around New York City, Fred Trump's real estate mini-empire benefited from generous financing from the Federal Housing Administration. However, the years during World War II remain as a sketchy and nebulous gap in Fred Trump's "official" biography.
New York Times article on Fred Trump's 1927 arrest at a KKK rally in Queens
Fred Trump's FHA-funded apartment complex in Coney Island was so infamous for its policy of refusing to rent to blacks, even black veterans of the war, that Woody Guthrie, who lived in the tenement from 1950 to 1952, wrote a song titled "Old Man Trump." Little did Woody, the father of Arlo Guthrie, know that the son of "Old Man Trump" would not only become president of the United States, but its first openly pro-Nazi president.
Guthrie's song goes as follows:
"I suppose that Old Man Trump knows just how much racial hate

He stirred up in that bloodpot of human hearts

When he drawed that color line

Here at his Beach Haven family project

Beach Haven ain't my home!

No, I just can't pay this rent!

My money's down the drain,

And my soul is badly bent!

Beach Haven is Trump's Tower

Where no black folks come to roam,

No, no, Old Man Trump!

Old Beach Haven ain't my home!"
Among the hundreds of Trump real estate holdings Special Counsel Robert Mueller is now investigating is the Beach Haven LLC, the old Coney Island apartment building made infamous by Woody Guthrie.
In 1973, the federal government took Fred and his apprenticeship son Donald to court over their violation of the Fair Housing Act of 1968. It was the Richard Nixon administration that took the Trumps to court. The suit was settled in 1975 with no admission of guilt by the Trumps. That stance was courtesy of Donald's new mentor, the Joe McCarthy Red-baiting counsel Roy Cohn, a vicious self-hating Jew and a self-loathing homosexual. Cohn convinced Donald Trump to counter-sue the Nixon administration. The attempt failed but Trump learned that Cohn's advice to sue anyone at the drop of a hat would serve him well in the future.
Based on the fascination of his son, Donald Trump, with a book of Adolf Hitler's collected speeches, "My New Order," which Trump's first wife Ivana claimed he kept on the nightstand next to his bed, questions certainly arise about Fred's actual loyalties during the war against Nazi Germany. Although Fred's parents were German immigrants and Fred was conceived in the "Fatherland," Fred lied about his German roots during and after World War II. Why? Was he covering up a deep secret from the Federal Bureau of Investigation, which was always on the lookout for German sleeper agents during the war? Fred Trump's KKK activities in Queens during the late 1920s, while Hitler's nascent Nazi Party was becoming a political force to be reckoned with in Germany, are suspicious. The same
New York Times
article that described Fred Trump's arrest in 1927 also describes fascist parade activity in The Bronx.
Trump's far-right political activities would have melded in well with the birth of the America First movement in the 1930s. Led by aviator pioneer Charles Lindbergh, whose Republican Congressman father was actually from Sweden but opposed America's entry into World War I against Germany, the America First movement was jam packed with Nazi members of the Friends of New Germany, formed in 1933 on the orders of Deputy Fuhrer Rudolf Hess. Perhaps not coincidentally, "America First" was the rallying cry of the Trump presidential campaign from 2015 to 2016. The tenets of Lindbergh's America First and Trump's version of it are practically identical. Both relied on boosting white European racial identity at the expense of minorities.


Nazi sympathizers were concentrated in the Philadelphia area, including Chester, where Fred Trump was building barracks for the U.S. Navy within sight of departing troop transports
In 1936, the German Nazi government authorized the creation of a successor to the Friends of New Germany, the German-American Bund, which maintained its headquarters in Manhattan. The Friends and the Bund helped many legal and illegal German immigrants with Nazi sympathies to enter the United States. Bund leader Fritz Kuhn, himself had emigrated from Germany in 1934. Like Kuhn, these Friends and Bund immigrants were all loyal to Adolf Hitler and had Germany defeated the United States, these Germans would have been appointed by Berlin as the Nazi leaders of the German American States. After being caught embezzling funds from the Bund, Kuhn was replaced by Gerhard Kunze in 1939. A few weeks prior to the Japanese attack on Pearl Harbor, Kunze fled to Mexico and the protection of the Germany embassy in Mexico City. Kuhn spent the war years in Sing Sing prison in New York and an internment camp in Crystal City, Texas. After the war he was deported to Germany, where he died in 1951.
Bund leader Fritz Kuhn meeting Adolf Hitler in Berlin. Did Fred Trump have a relationship with Kuhn in New York City?
Around 1937, Fred Trump's pals in the Klan joined with the Bund and the Nazi Silver Shirts and Black Legion to form the Storm Troops. This early "United the Right" movement received heavy corporate funding. By 1937, Fred Trump was making handsome profits as a notorious Queens slum lord. Did any of those profits end up in the coffers of either the Bund or Storm Troops? The families of past U.S. presidents had every aspect of their histories examined in great detail, although some quite belatedly. In Trump's case, there has been no meaningful effort to delve into Fred Trump's background in the interwar years.
There were so many pro-Nazis, including a number of ethnic Germans, in the New York-New Jersey-Philadelphia corridor, that the German airship
Hindenburg
made it a point to fly over a number of cities and towns with high German concentrations as a propaganda display. These included, in addition to New York and Philadelphia, Paterson, Newark, Elizabeth, New Brunswick, Princeton, Trenton, and Camden, New Jersey. The
Hindenburg
eventually exploded while mooring at Lakehurst, New Jersey on October 9, 1936. There is a belief that the airship fell victim to anti-Nazi saboteurs. Perhaps Donald Trump should be asked what his father told him about the fly-by of the
Hindenbur
g over New York City and whether it triggered any pro-Nazi comments from the one-time Klan supporter.
The route of the Hindenburg took it over populous cities, including those with large German-American populations like Fred Trump's New York City
All we are officially told about Fred Trump's activities during the war years is that he "built barracks and garden apartments" for the U.S. Navy near the major troop embarkation ports of Chester, Pennsylvania and Newport News and Norfolk, Virginia. Fred would have been in a prime position to conduct "troop counting" on the numbers of newly-trained recruits from Fort Dix and Camp Shanks, New Jersey and Fort Indiantown Gap and Camp Reynolds, Pennsylvania who were shipping out from Chester and recruits from Fort Eustis, Fort A. P. Hill, Camp Pickett, and Fort Lee, Virginia shipping out from Norfolk and Newport News to Europe. For someone like Fred, whose far-right political activities as a first generation German immigrant must have been well-known and a godsend to the Bund and Nazi Germany's Abwehr military intelligence and Gestapo, having a vantage point so close to Chester, Norfolk, and Newport News and so close to monitor the outbound and inbound shipping lanes for Philadelphia; Camden, New Jersey; and Baltimore would have been a double bonus.
One Bund member, a German immigrant named Waldemar Othmer, infiltrated the U.S. military as a civilian employee and dutifully sent via microfilm information to his Abwehr handlers in Berlin on the movements of British and American military vessels, convoys, and merchant ships out of Brooklyn and Norfolk. Sinking American ships was a high priority for German naval commander Admiral Karl Donitz, who dubbed the program Operation
Paukenschlag
or Drumbeat.
Another German immigrant spy, Hermann Lang, worked as a draftsman for the Carl L. Norden Corporation in New York City. Lang stole plans for the top secret Norden bomb sight and before the end of 1938, the Luftwaffe produced one of similar design. Gustav Guellich, who arrived in the U.S. in 1932, began working as a metallurgist at the Federal Shipbuilding Company in Kearney, NJ. Guellich provided the Nazis in Berlin with classified information on the Navy's new guns and shells and blueprints for naval destroyers. Most of the Nazi espionage efforts before and during the war were directed by master spies Frederick "Fritz" Duquesne, an Afrikaaner immigrant from South Africa, and Willliam Sebold, a naturalized German immigrant. Their spy headquarters was located at 120 Wall Street in lower Manhattan.
Nazi Bund Camp Nordland in Sussex County, New Jersey attracted several pro-Nazi German-Americans from the greater New York area. Camp Nordland invited members of the KKK for joint rallies. Was Fred Trump ever seen there?
In the days before and after the attack on Pearl Harbor and Germany's declaration of war on the United States, FBI agents swooped in on German-American spies, especially in the New Jersey, eastern Pennsylvania, Delmarva, and New York regions. There were four Bund camps located within a 15-minute drive from the Delaware River Bridge connecting Camden in south Jersey to Philadelphia. In Maple Shade, a suburban community on the railroad line used by troop trains from Fort Dix to the Delaware River, a husband and wife bakery was discovered to have had a radio set in the basement. The kindly German couple were sending coded messages to U-boats off the East Coast containing counts of troop trains heading to Camden, Philadelphia, and Chester for embarkation across the Atlantic. The Trump properties in Brooklyn and Queens would have visual vectors on the Brooklyn Naval shipyard.
Fred Trump with his building plans in New York [left]. Albert Speer showing his plans for Berlin to Adolf Hitler [right]. What else did they all have in common?
One horrific event was etched in the memories of every American, the February 3, 1943, sinking by U-223 of the
USS Dorchester,
a converted passenger-cargo ship in the icy waters of the North Atlantic. Of the 902 officers, GIs, and civilians on board, 675 died. When rescue ships reached the area, hundreds of passengers were found dead, still floating in their life jackets and all victims of hypothermia. Four chaplains gave their life vests to other servicemen and went down with the
Dorchester
. "The Immortal Chaplains" -- Rev. George L. Fox, a Methodist Minister; Rev. Clark V. Poling, a Dutch Reformed Minister; Father. John P. Washington, a Catholic Priest; and Rabbi Alexander D. Goode -- continue to this day to be honored as heroes.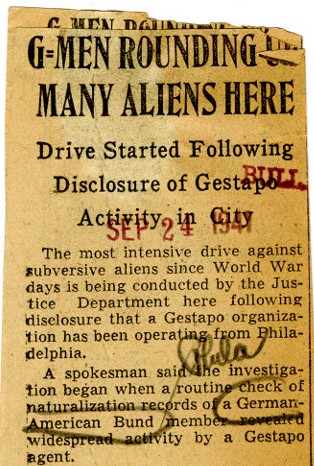 FBI rounded up many Nazi agents in the Philly area
The U.S. Coast Guard was on patrol at the entrances to the Hudson, Delaware, and Chesapeake Bays and under orders to drop depth charges on any suspected U-boats. On several occasions, after a depth charge volley, Coast Guard personnel spotted oil slicks, air bubbles, and even clothing and bedding bobbing up to the ocean surface.
The Nazi spy threat in the mid-Atlantic region was real. German immigrant and Lutheran pastor Rev. Carl Emil Ludwig Krepper, who served congregations in Philadelphia and Williamstown and Newark, New Jersey, resigned from the church. Later, he joined a Nazi sabotage group ordered by Berlin to carry out Operation Pastorius, which included blowing up a cryolite metals plant in Philadelphia, the Horseshoe Curve railroad pass near Altoona, and Pennsylvania Station in Newark. There were so many non-Jewish German immigrants to the United States who sided with the Nazis, Fred Trump's own murky history during the 1930s and 40s should be examined through a powerful lens.
Unlike Donald Trump, who has trouble talking about what his father did during the war against Nazism and fascism, the story about the German bakery in Maple Shade was described to me many times by my late mother. In addition, my Uncle Thomas Gray, who joined the Coast Guard from his native Cape Hatteras, North Carolina at the age of 15 and advanced to Lieutenant Commander by war's end, reveled in describing his U-boat chasing efforts off of New Jersey, Delaware, Maryland, Virginia, and the Carolinas.
Fred and Donald Trump taken on by the Nixon administration for racial bigotry in renting property to blacks
I and many Americans can recount the war stories from our parents, grandparents, and aunts and uncles, but not so Donald Trump. Fred Trump's association with the KKK and likely links to the Bund and America First movement do not make for great war stories, unless, of course, one is a Nazi offspring. What Nazi wouldn't be impressed by a father who conducted secret surveillance of departing U.S. troop transports heading into potential deadly torpedo attacks from U-boats? Donald Trump, who has made no secret of his admiration for Nazis, would most certainly be impressed.
"Fake Swedes" -- Fred and Donald Trump. Like German father, like German son?
A picture of Fred Trump is placed in reverence behind Trump's desk in the Oval Office. If Fred Trump can be exposed as a Nazi spy during World War II, that may be enough to set off Trump on national television, an emotional display that may end up with him shooting someone in the middle of Fifth Avenue.